Why You Should Demand That Your Workers Compensation Insurance be placed through the NECA ADR Program!
Because it is the only workers compensation plan that actually lowers the cost of the claims paid by your policy, thereby decreasing cost. Lower cost will translate into lower premiums.
This answer is simple but can take considerable explanation.
Background
Alternative Dispute Resolution (ADR) was originally developed by employers and unions in the early 1990s, primarily in the union-concentrated states of California, New York and Illinois. Legislation created the legal alternative to the statutory system, granting employers and unions in the construction industry the authority to carve out the current statutory system and implement an alternative worker's compensation system through collective bargaining. At present, ADR is permitted by legislation in 10 states for use in collectively bargained building trades.
In California, labor code 3201.5 effective July 1993, permitted the establishment of a program whereby a union and an employer or group of employers in the construction industry could collectively bargain to create an alternative to statutory worker's compensation using ADR. The use of ADR by unions grew over time for one simple reason: it works.
Recognizing the success achieved by construction employers since 1993 using ADR, state legislators agreed to expand ADR programs to non-construction industries. In January 2004 labor code 3201.7 which went into effect. 3201.7 permits collectively bargained unions and private / group employers in any industry to create an ADR alternative. A quick definition: "program" or "group" is simply a combination of smaller employers, which as one can be considered a "safety group". The program sponsors insurance on behalf of all member employers in the group, and ADR is negotiated collectively between the employers and the union.
Objectives & Benefits of NECA ADR
Objectives
- Reduce Workers' Compensation claim costs
- Reduce employers' costs
- Improve benefit delivery
- Promote safety
- Promote labor-management cooperation
- Create more jobs for union members
Benefits
- Reduce loss costs
- Reduced litigation
- Shorter claim cycle times
- Better medical care
- Faster return to work
How It Works
The philosophy behind ADR is simple: rather than viewing an injured worker as an expense to be paid, the injured worker is viewed as an important asset to the business and someone who is in need of efficient, quality care so they can return to work quickly. Whereas a standard WC claims strategy is to move claim payments out over time for time value of money considerations an ADR strategy is to get the employee back to work as rapidly as possible for human welfare consideration. ADR seeks to actively manage a workers medical care. By focusing on properly caring for injured workers, ADR will ultimately lead to lower medical expenses and a lower likelihood of litigation. This will in turn reduce an insurer's claim costs, and allow the carrier to earn a profit, ultimately saving money for both employer and employee.
In practice ADR is a multi-faceted product, combining:
1. Preventative measures taken on site for wrap-up projects.
2. Delivery of managed medical treatment emphasizing quality car, maximizing injured worker satisfaction, and returning injured workers to productive employment.
3. Contractually obligated, mediation-driven process designed to deal with problems before they result in costly litigation.
In combination, these elements ensure that injured workers receive the benefits they need and are returned to work faster, with less litigation then under a traditional statutory plan.
Here is a graph of the process:
What Do We Mean by Actually Lowers Costs
To understand any Workers Compensation product we need to understand the average cost to close a claim and how often does a claim go to litigation. Obviously once a claim goes to litigation the costs skyrocket. The first statistic that is important is the average cost for a closed claim and the second is frequency of litigation: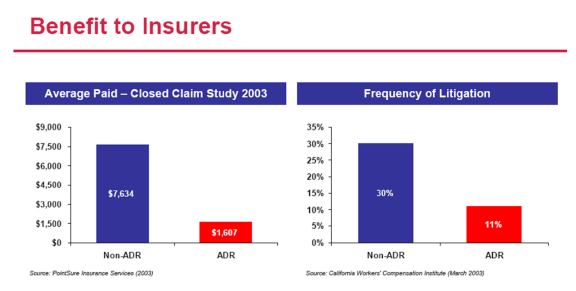 Other factors that we must understand are does the process actually get the employee back to work more rapidly thereby saving money and is an ADR claim settled in less time?
Does ADR Work?
Independent institutions took note of the success achieved by ADR programs and several studies were conducted into the efficacy of ADR. Separate studies by the California Workers' Compensation Institute ("CWCI") and Cornell University concluded that the use of ADR reduced average claims costs by 35-40%, reduced average time lost by workers by ~25%, and achieved these results with significantly less litigation.
Specifically, the NECA West ADR program NECA/IBEW has been operating for over 10 years and is considered the largest and most successful ADR program in the United States. The ADR program run by NECA has achieved pure loss results that are 23% below the California industry average, and the loss ratio for the NECA program has been at approximately 53% for the past 7 years. NECA's recent independent actuarial report indicates that the reduced pure loss and DCCE for NECA are attributable to its successful ADR program.
Cost of an Insurance Program
Here is a cost breakdown of a typical workers compensation product:
Statutory Workers Compensation Cost Components

a. Policy Administration

1.5%

b. Underwriting

1.5%

c. Loss Control

1%

d. Premium Audit

1%

e. Retail Commission

7.5%

f. Carrier Expense

7%

g. Reinsurance

9.5%

h. Taxes

3%

i. Claims Administration

3.5%

j. Claims Payments and Reserves

60%

k. Carrier Profit

4.5%

Total Cost of Product

100%
If we are going to significantly lower the price of a Workers Compensation policy to your client we must lower the cost components, it is that simple.
NECA WEST ADR has directly attacked the largest cost area of any insurance product, the actual cost of individual claim settlements. Lets say a statutory WC program has $10,000,000 of actual paid claim settlements for the year 2004, those same claims may be settled for approximately 75 cents on the dollar using the NECA WEST ADR workers compensation program. The actual cost of the program has been reduced. The actual dollars spent to settle the same claims would be $7,500,000 in this example, or a savings of $2,500,000. These program savings will be passed along to the NECA WEST participating members.
NECA electrical contractors have received correspondence form other Insurance Carriers stating that they will compete or that they offer ADR like claim settlement. Both of these statements are inaccurate once you understand that ADR is not merely price reduction it is a system that actually reduces the costs for the insurance carrier. Here are a few of the reasons that none can offer ADR to your NECA client.
1. ADR must, by law, be a collectively bargained.
2. ADR requires approved labor-management medical providers
3. ADR requires ombudsman, mediator and arbitrator
4. ADR requires joint labor-management safety committees.
A statutory carrier does not have the long term price advantages of true ADR claims settlements therefore although any carrier can offer short term price reduction no other program has the long term cost efficiency of the NECA ADR program. No carrier has the system to reduce costs over the long term like NECA WEST ADR.
This is "Why You Should Demand That Your Workers Compensation Insurance be placed in the NECA ADR Program!"
---
NECA West
1635 N. Greenfield Road, Suite 127
Mesa, AZ 85205

Phone: (480) 247-6449
Fax: (480) 248-6448
Contact Us